Painting with watercolour is not witchcraft and does not need much material: anyone interessted can learn how to do it! Isn't that great? I haven't been painting with watercolour for very long myself, and I was surprised how fast you can get presentable results. The flowing paint forgives small inaccuracies. Often it even looks quite good if it is not perfect. This is a wonderful prerequisite to start painting as a beginner. I started painting in order to have something for myself in my everyday life with the kids. A moment of peace and quite for myself, which I spent with paint and brush. I find it absolutely relaxing and it takes my mind off things, or rather, I don't think much at all. I just go with the flow! 🙂 As they say.
In this blog post and the ones that follow, I would like to give you my tips and tricks on the material I use and show you simple pictures/techniques. Subscribe to the Newsletterright away, so you won't miss any new blog posts.
What you need
In this blog post I want to show you what materials you need to get started. There are really inexpensive brushes, paints and papers available that are perfect for beginners. So you can just try them out and see how you feel. It's not worth buying all kinds of things right from the start. Maybe some of them don't suit you at all. Some people need many different brushes, others only work with two or three. Some like liquid watercolour, others paint only with colours in pans or tubes. Pretty soon you will notice what you enjoy and what type of artist you are.
Before we start, a quick clarification. The following list contains my favourite materials. I am not an expert and cannot give you detailed information on all materials. For example, there are many different types of watercolour paper and I cannot explain the differences in detail. But I can tell you with which materials I work well.
To begin with, I recommend that you get the following basic material:
You will also need the following, which you certainly already have at home:
Watercolour paper
As I said, there are many different kinds of paper. In my opinion, one of the most important criteria is the paper thickness. Why? Because when painting with watercolour, as the name suggests, you use a lot of water. Paper that is too thin starts to curl quickly. I personally would not use paper with less than 250 g/m2. It will not curl, even if you use a lot of colour/water. For the same reason I use four-sided glued pads. This helps to keep the sheet nice and flat. You paint right on the pad and through the glued sides, the sheets below stay "clean". There are also single sheets of paper, but they get wavy too fast. Note that when painting with watercolor it is quite normal for the paper to bend a little from all the water. After drying it becomes flat again or can be pressed with a heavy book.
formats. I can't give you any advice on that. I like to use small pads, e.g. A6, A5 or something in between, because I like to make cards with them. But of course, there are also bigger formats. Choose according to your preferences and the pictures you want to put paint.
There are also different surfaces: matt, rough, smooth, satin... Again, there is not the right watercolour paper. I personally like rough papers where the structure is clearly visible. The different surfaces are not only visually different, the colour also behaves differently. Which one will be your favourite? It's best to try different ones. None is wrong.
I like to work with the following watercolour pads:
Aquarell Torchon 275 g/m2, 12 x 17 cm by Hahnemühle
Etival, Fine grain, 300 g/m2, 10 cm x 15 cm by Clairefontaine
Montval®, 300 g/m2, 10,5 cm x 15,5 cm by Canson (Canson bietet eine Auswahlhilfe, siehe Link)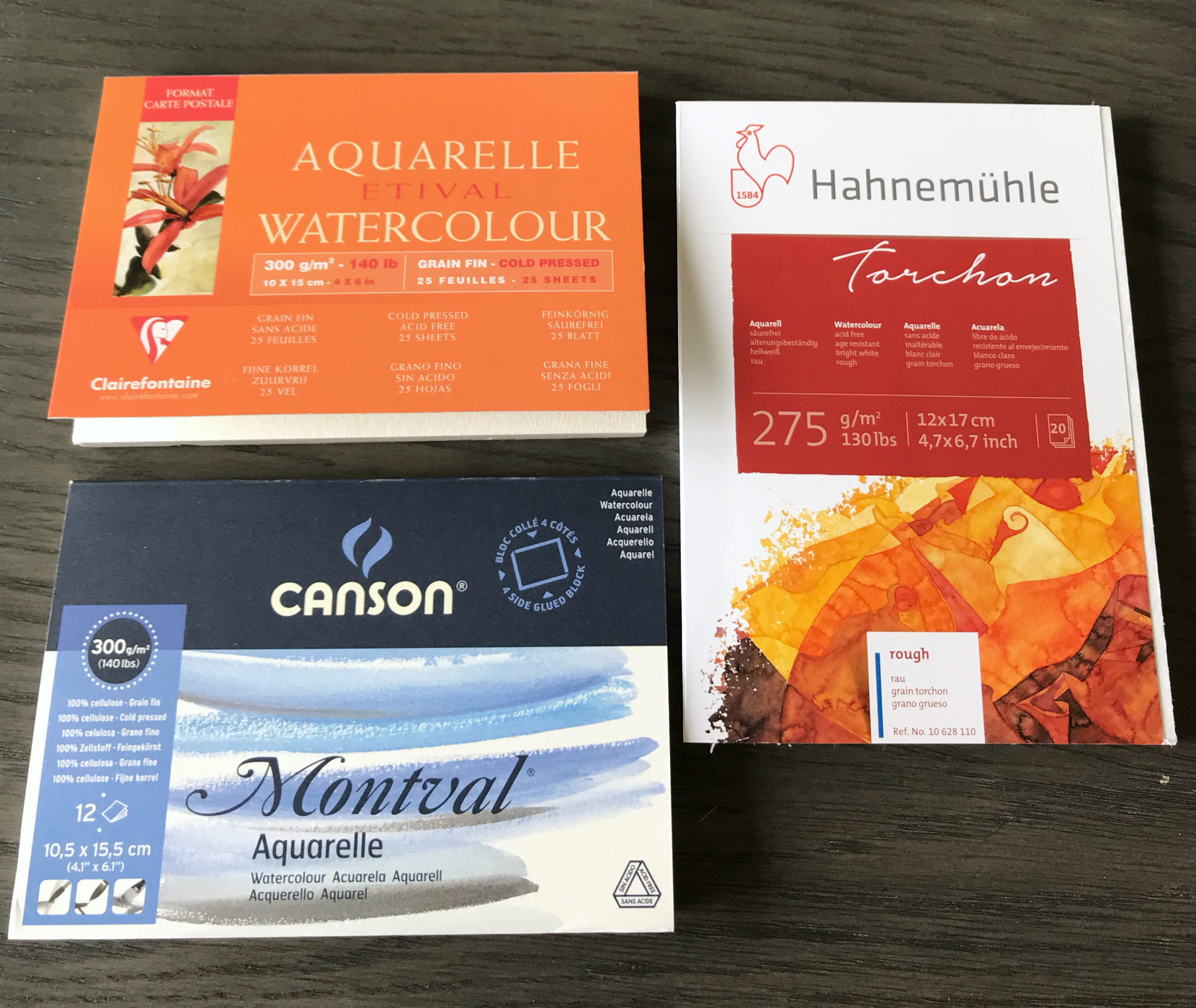 A little tip: 
The four-sided glued pads all have a small spot or corner somewhere that is not glued. There you can cut off the top sheet after painting. I do this with a small kitchen knife. I don't know if the professionals do it the same way 😉
And I always have several pads so that I can let the pictures dry on right on the pad and continue painting in the same time. But if the picture is not too wet, you can also take it away before.
Brush
As with many things, you are also spoilt for choice with brushes. There are very cheap and very, very expensive brushes available. I must admit I've never bothered to study the differences. I honestly started with brushes from IKEA. Ok, they were not of high quality, but they served their purpose and with these cheap brushes I was also able to notice that I enjoy painting. Soon I bought some brushes from Van Gogh I still paint with them and I'm satisfied. For the start, 3-4 brushes in different sizes are sufficient. Van Gogh has, for example, also brush sets (e.g. Water Colour Brush Set, Series 191 No. 4-8-12), which are super suitable as a starter set.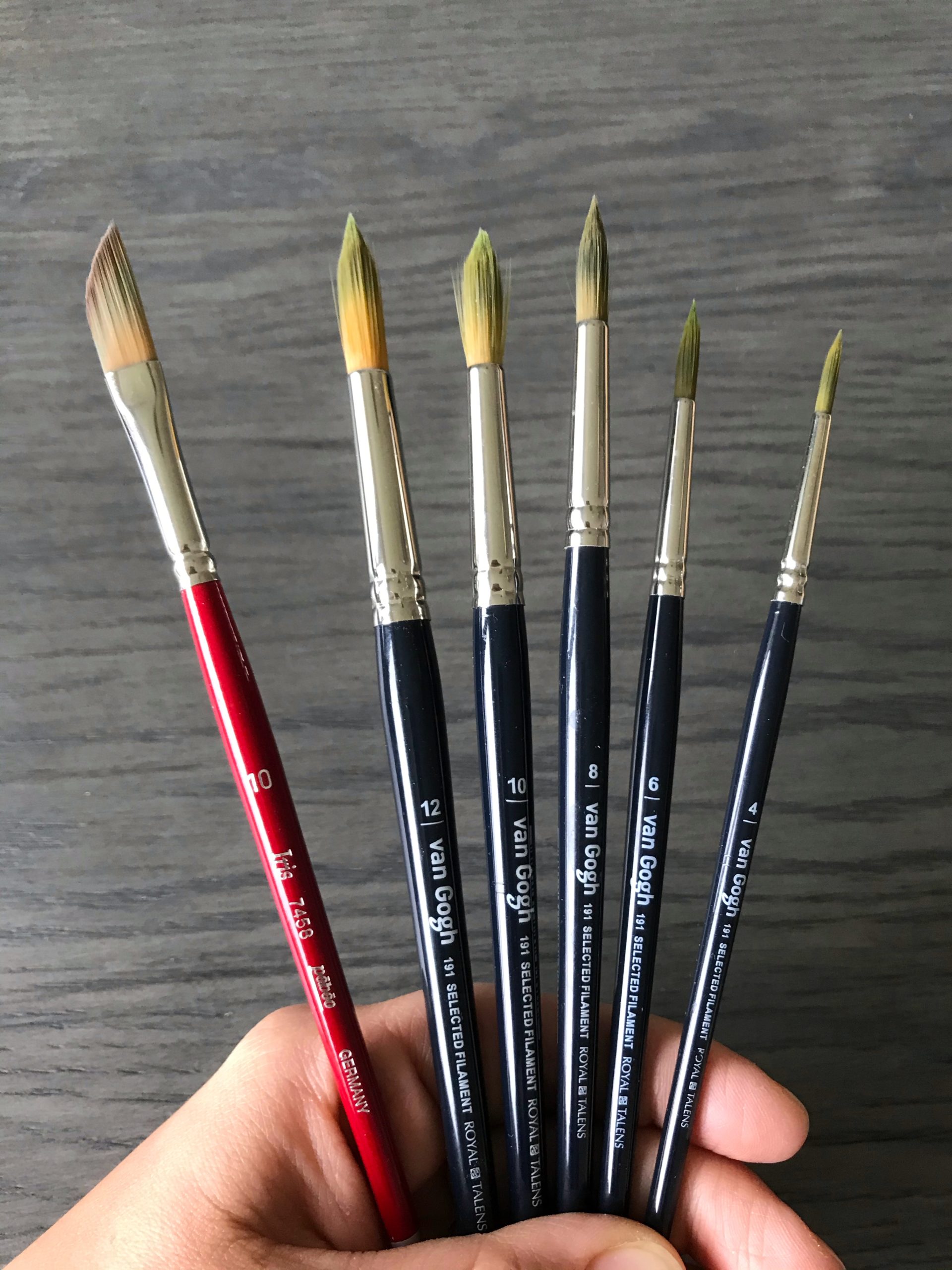 Brush care tips
Take care of your brushes, even if they are not among the most expensive, so you will enjoy them for a long time. Here are a few tips:
Never leave the brush standing in the water glass.
Clean them thoroughly with water after painting.
Let them dry with the brush head down or lying down, not with the brush head up.
To protect the brush hair, use the plastic protection cap that comes with the new brush. Do not put the cap back on until the brush has dried.
Use your watercolour brushes only for painting with watercolours.
Watercolour
Naturally the colours are particularly important. As you can probably guess, the choice is huge here too. Since the beginning I have been using the colours by Van Gogh and I haven't tested any others yet. I think the value for money is great and I now have a large selection. But for the start, a small paint box is enough for you. You don't need many different colours, because with only a few you can already mix a lot of colours. Provided, of course, that you have the basic colors. I can recommend the Pocket Box Basic Colours by Van Gogh You can really do a lot with the colours it contains, the handling of the colours in the pans is easy, in the lid you have room to mix and it is not too expensive.
Watercolour is also available in tubes. After some time, when I noticed that I like to use blue tones, I bought some of them in a tube. You need very, very little colour, because you always add water. A tube lasts very long. You just need a separate mixing palette or something similar where you can put the paint in. But for the start I would prefer a small paint box as mentioned above.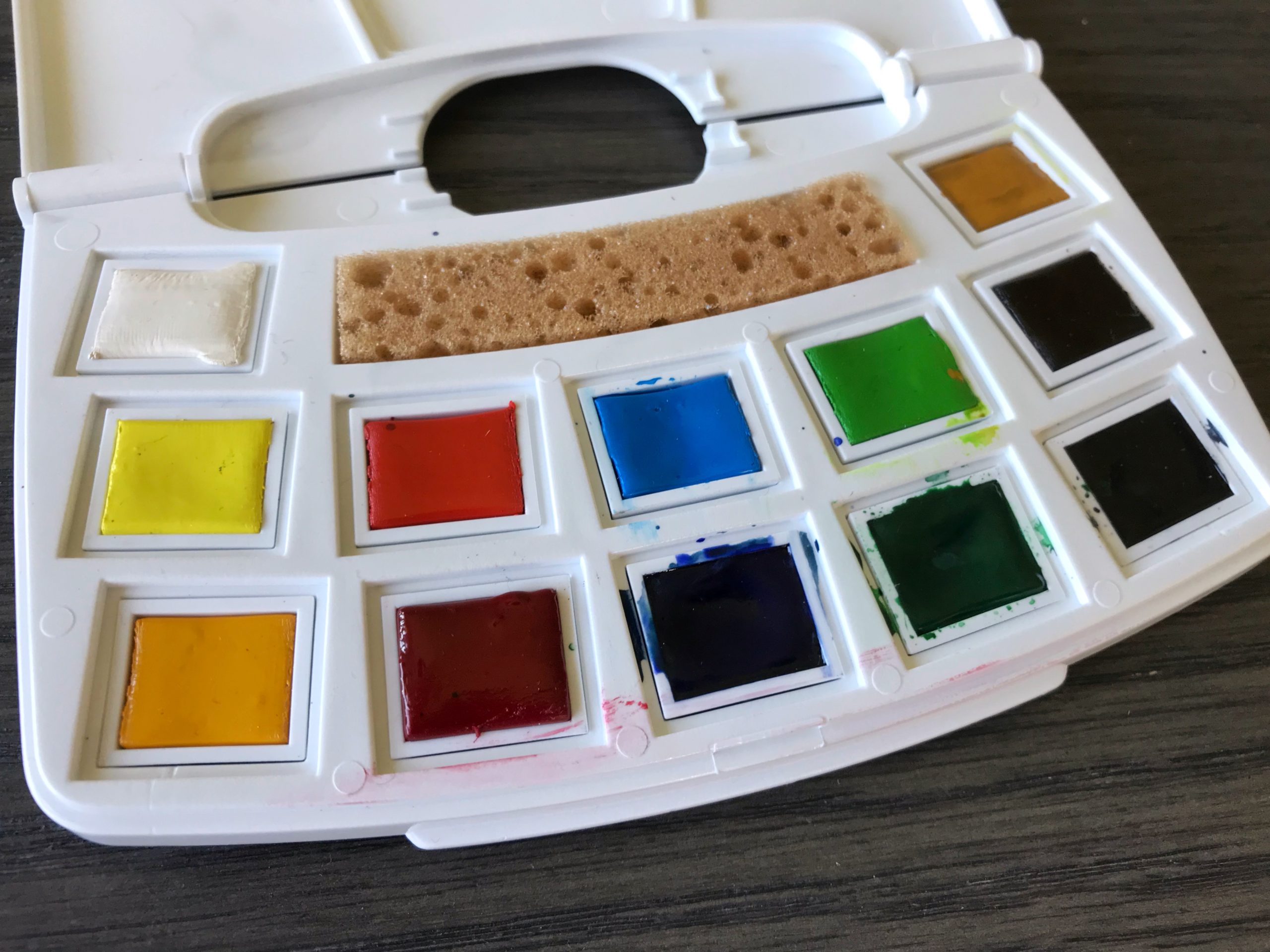 Water Colour Pocket Box Basic Colours 
Watercolour is also available in tubes. After some time, when I noticed that I like to use blue tones, I bought some of them in a tube. You need very, very little colour, because you always add water. A tube lasts very long. You just need a separate mixing palette or something similar where you can put the paint in. But for the start I would prefer a small paint box as mentioned above.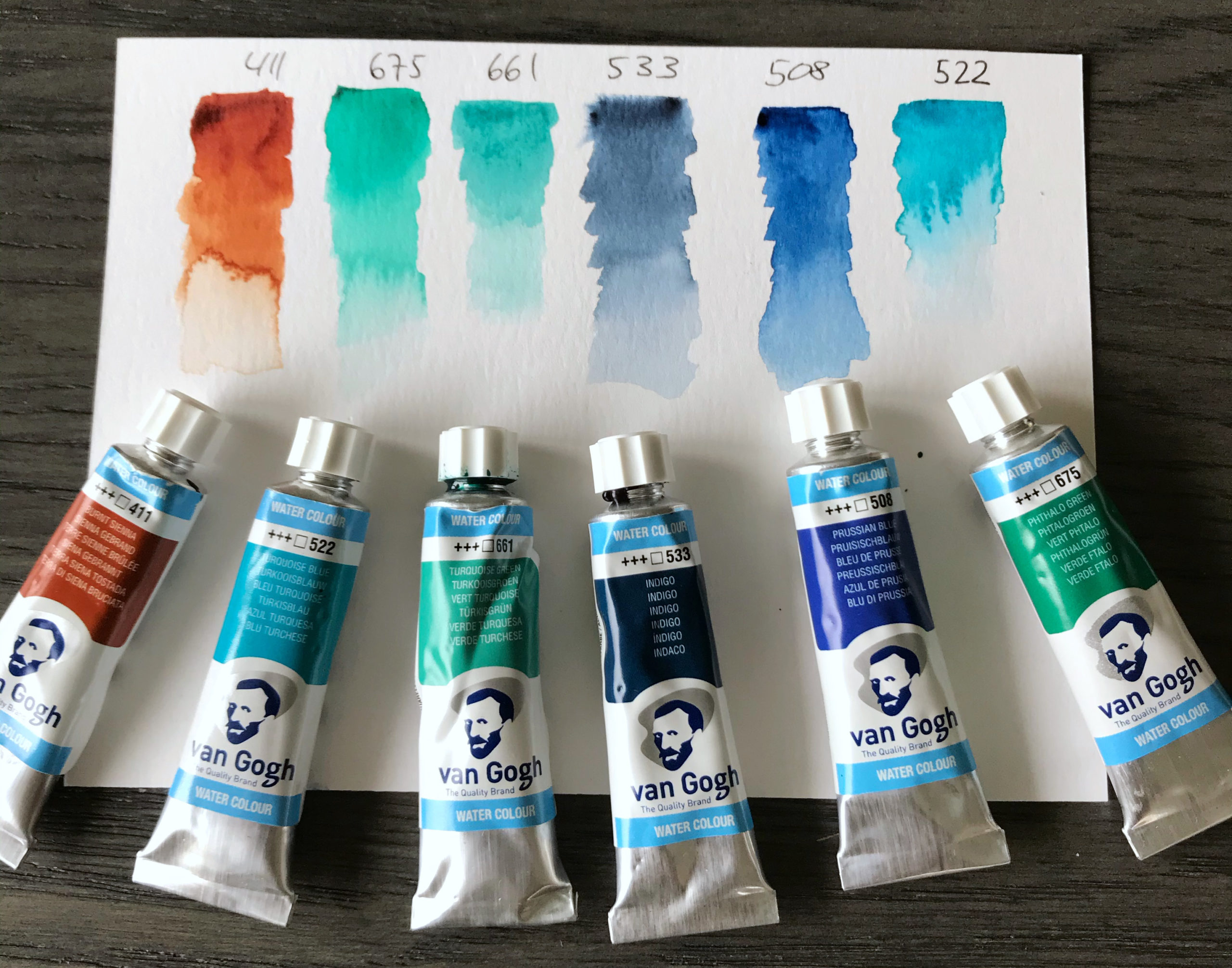 Tip: Allow colour leftovers to dry and use them again
What I find really great when painting with watercolor is that you don't have to worry about not being able to use color leftovers. When I'm done painting, I just let the paint dry in the lid or in the mixing palette. Next time, I can simply add water with the brush and the paint is as good as new again.
Water and water glass / paper towels/old rag
I always have two water glasses with fresh water ready. The purpose of them is actually that one glass has always clean water and the other one serves to wash out the brush. However, most of the time both glasses are dirty soon and I have to get fresh water 😉. Otherwise you can't use light colours or wet an area.
So I use two water glasses and next to them I put one or two layers of a paper towel or an old drying cloth to wipe the brush off.
And what is also quite handy is a piece of watercolor paper to test the colors before you put them on the "actual" sheet. Most of the time I use sheets that I have already painted on and that I didn't like.
That's it 🙂
I hope I was able to show you a little bit that painting with watercolor really doesn't need much and encourage you to start as well. On Facebook and Instagram I regularly share tips and tricks, videos and my own pictures. Why don't you follow me so that you don't miss anything? New blog posts are also already in the pipeline, sign up here for the Newsletter to always be the first to get informed. 
Have fun getting the material and trying it out! If you have any questions, feel free to send me a message via contact form.