Ein Wochenplan hilft nicht nur dabei, die Zeit besser zu nutzen, sondern ermöglicht es dir auch, Prioritäten zu setzen und dein Leben effektiver zu gestalten. Also, worauf wartest du noch? Lege gleich los!
Eigentlich haben wir ja heutzutage viele digitale Helferlein, die uns unseren Alltag erleichtern können: Kalender, To-Do-Listen, Menü-Planung, Einkaufslisten etc. Zugegeben, ich nutze auch einige regelmässig und würde nur ungerne auf sie verzichten. Trotzdem finde ich es persönlich sehr hilfreich, mir meinen Wochenplan für die kommenden Tage oder auch für die ganze Woche aufzuschreiben. Dabei plane ich sowohl berufliche als auch private Termine ein. So habe ich immer einen Überblick über meine Aufgaben und weiss genau, was mich in den nächsten Tagen erwartet. Ausserdem kann ich so besser Prioritäten setzen und muss mich nicht jeden Tag neu orientieren.
Weekly planning
Es gibt verschiedene Arten von Wochenplänen – von ganz simpel bis hin zu sehr ausführlich. Welche Art am besten zu dir passt, musst du natürlich selbst herausfinden. Für mich persönlich hat sich folgende Methode bewährt: When I sit down for my first coffee in the morning, I take my weekly schedule and write down what needs to be done, cross off what I've already done (isn't that a great feeling when you can tick off a task like that?

) or put things off until the next day. My everyday life with my children and my freelance work is often not straightforward and requires a certain flexibility. With my weekly schedule, I am less likely to forget small things.
Menu planning
I'm actually quite happy to write down these plans and tasks and work on them, but what I don't like to do at all in my everyday life is menu planning... No sooner is one meal on the table than it's already time for the next one. At least that's how it seems to me. The fact that my children can be rather picky and that there's a good chance someone will complain at the sight of the food doesn't exactly help to make cooking more fun for me. So that I don't have to deal with meal planning all the time, some time ago I started planning menus for the whole week before I go shopping. That way, I not only have the menu planning, but also the shopping list
This planning is then not set in stone. I still appreciate a little freedom to do something different or spontaneously invite friends over. But I at least have a rough idea of what's on the table and when, and for which options I have everything I need at home. I also do this planning on paper and then have it visible in the kitchen.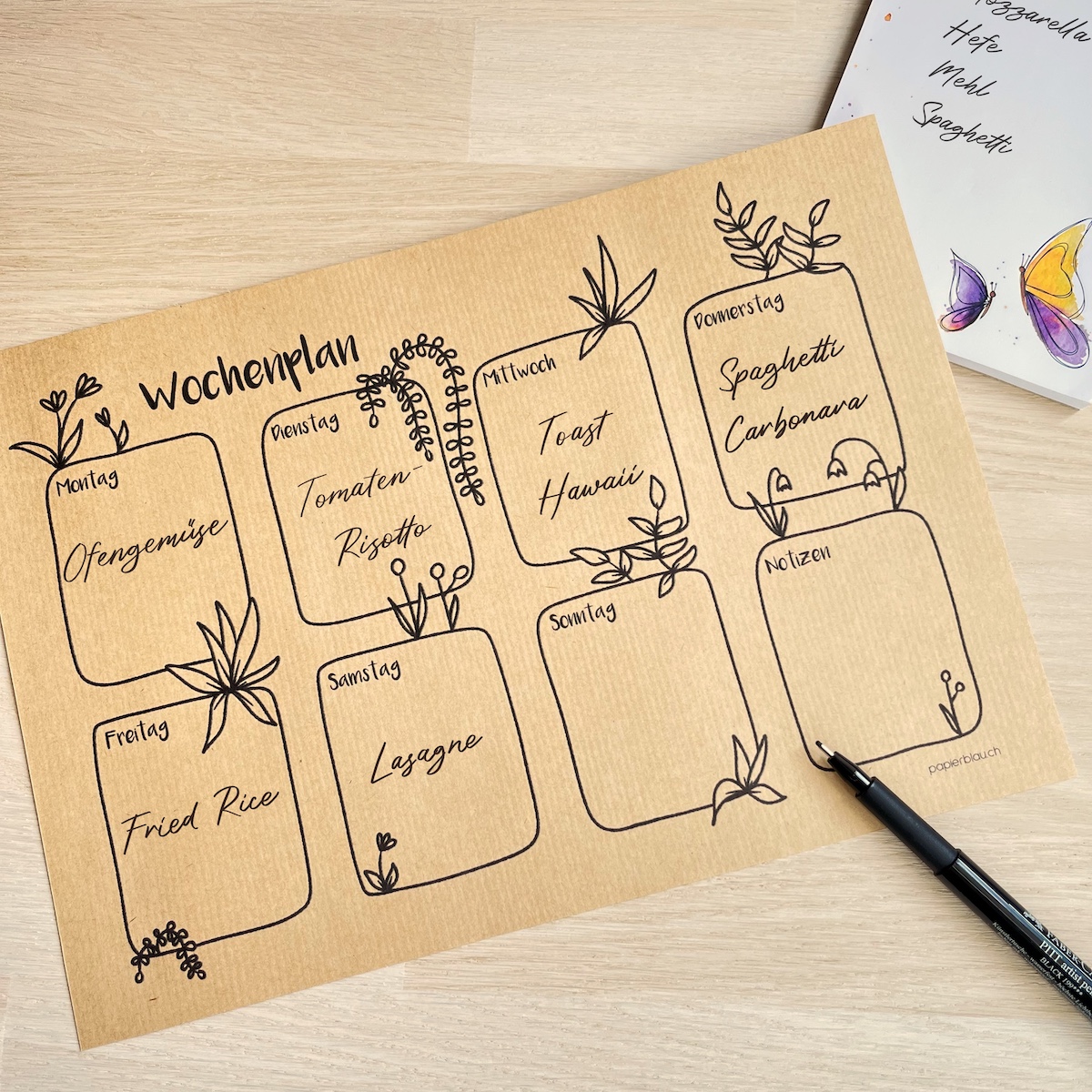 Planning is much more fun when I can do it in a nice agenda and on an attractive weekly plan. That's why I have created a few weekly planners that I can print out when I need them. Why don't you take a look at them?
Print advice
The planner is intended for A4 format. When printing, make sure that you adjust the size to the page size in the print settings. Otherwise the border may be cut off.
Less screen time
A positive side effect of analogue planning - I use my smartphone less. It is important for me to be a good role model for my children and not to stare at the screen all the time. I look at my handwritten planning relatively often, cross something off, add something, postpone something until tomorrow. If I always had to pick up my smartphone to do that, I would have a lot more screen time.
Zm Abschluss noch ein paar Tipps für eine ausgewogene Woche:
Jeden Tag eine Stunde für die wichtigsten Aufgaben einplanen

Jeden Tag eine halbe Stunde für Bewegung einplanen

Menschen in den Alltag integrieren, die uns positive Energie geben

Positiv denken – auch wenn es mal nicht so läuft wie geplant
I hope I could inspire you to use pen and paper for your daily planning. Try it out!
This might interest you as well